Infomina
Media interaktif yang selalu memberikan berita dan informasi terkini dari industri perikanan. Anda juga dapat berbagi mengenai informasi perikanan yang Anda miliki disini.
promoted info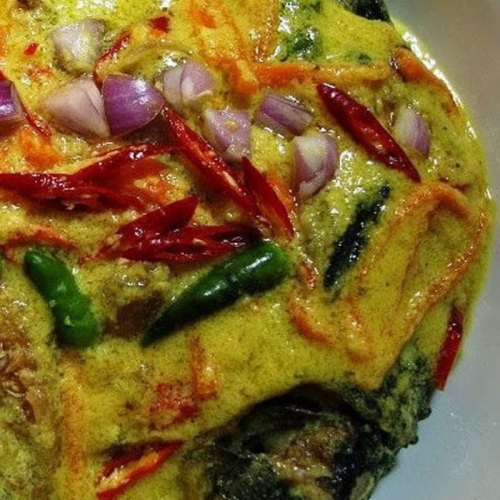 Fish2Eat
Resep Bandeng Acar Kuning
Bahan :1 ekor ikan bandeng segar, ukuran sedang10 siung bawang merah (kupas)8 siung bawang putih (kupas)4 buah belimbing wuluh1 bh wortel (iris)3 bh, jagung acar (iris)3 bh, cabe merah besar (iris)4 bh, buncis (potong 4 cm)½ bh ketimun hijau2 sdm, minyak goreng Bahan Bumbu :3 siung bawang putih5 siung bawang merah4 butir kemiri (bakar)2 cm kunyit2 bt sereh (iris)2 lb daun salam3 sdm air asam1 sdm gula1 sdm garam1 sdt lada hitam50 ml air kaldu ayam2 bh jeruk nipis (iris, ambil airnya) Pelengkap :1 sendok makan bawang merah goreng Cara Membuat :Bersihkan ikan, lalu bumbui dengan garam, lada hitam, perasan jeruk nipis dan minyak goreng, diamkan beberapa saat sampai bumbu menyerap.Haluskan bumbu, bawang putih, bawang merah, kemiri, kunyit, gula, garam, lada hitam, air asam perasaan jeruk nipisSiapkan wajan, panaskan, masukkan ikan, tutup dan masak selama 3 menit, sambil sesekali dibalik, buka tutup wajan lalu masukkan, bumbu halus, air kaldu dan semua potongan sayuran, tutup dan masak selama 2 menit, angkat sajikan dengan taburan bawang merah goreng.  Sumber: Resep Koki ...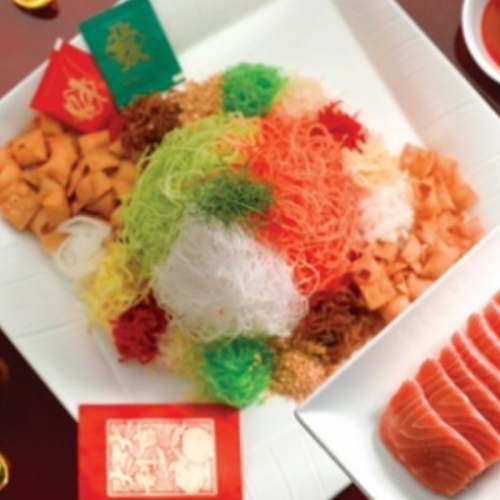 Fish2Eat
Resep Masakan Yu Sheng
Yee sang secara harfiah berarti ikan mentah. Akan tetapi dalam bahasa Cina kedengarannya seperti yu sheng yang dapat diartikan sebagai peningkatan dalam kelimpahan. Menjadi simbol dari kekayaan, kemakmuran dan nasib baik.Yu sheng merupakan racikan sayuran yang beri saus. Terdiri dari beragam sayuran seperti lobak warna-warni, jahe, timun dan wortel serta jeruk Bali. Racikan salad ini mempunyai 4 rasa; asin, manis, pahit, dan pedas. Yu sheng merupakan makanan pembuka saat jamuan makan malam Tahun Baru Cina.Jika ingin meracik sendiri, berikut yang harus disiapkan: 1. Bahan utama Siapkan 1 batang wortel kupas kulitnya, 1 batang lobak putih, 1 buah mentimun, 2 sendok makan acar jahe merah Jepang, 50 gram buah pomelo atau jeruk bali, pewarna makanan merah dan hijau, minyak untuk menggoreng dan manisan seperti kulit jeruk, jahe, dan jamur enoki.2. Bahan pelengkap Untuk pelengkapnya, 1 sendok makan biji wijen sangrai, 1 sendok makan kacang goreng yang dicincang halus, 1 sendok teh bubuk kayu manis, sejumput lada putih, 1 sendok makan extra virgin olive oil dan kulit pangsit goreng yang dipotong kecil.3. Saus Buatlah saus dengan 2,5 sendok makan saus plum, 1 sendok teh minyak wijen, air panas untuk melarutkan hingga cukup kental. Resep saus ini dapat digunakan untuk 2 porsi. Anda dapat melipatgandakan jumlahnya untuk menyajikan 4 atau 6 porsi.4. Memilih jenis ikan Yu Sheng biasanya diberi campuran irisan ikan mentah. Ikan yang digunakan biasanya menggunakan irisan fillet salmon, tuna, atau kerapu dan bisa juga ditambahkan dengan irisan abalone. 5. Siapkan alat Siapkan pengupas sayuran khusus dengan bentuk 'gigi' atau batang korek api atau alat pengiris mandolin untuk memotong-motong sayuran dengan cepat, biasanya bentuk yang dihasilkan strip tipis panjang, siapkan piring bulat untuk menaruh bahan utama sebagai kebulatan yang melambangkan kecukupan.Sumber: Hero Supermarket ...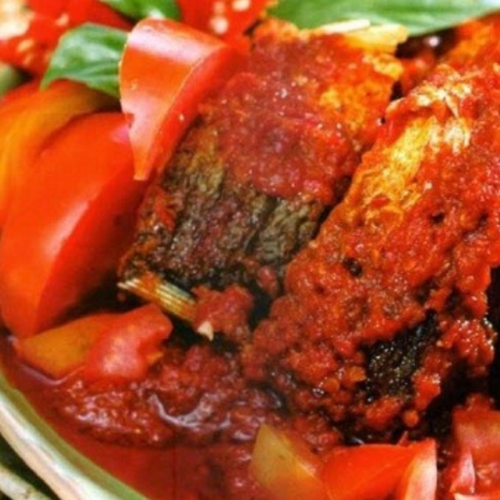 Fish2Eat
Resep Bandeng Bumbu Bali
Bahan:500 gram ikan bandeng2 sdm air jeruk nipis gula merah secukupnya 1 batang serai dimemarkan 2 buah tomat dibelah 4 bagian 4 sdm kecap manis 2 sdt kunyit bubuk garam secukupnya minyak goreng secukupnya Bumbu Halus: 4 siung bawang putih 4 buah cabai keriting 2 butir kemiri disangrai6 buah cabe merah segar 6 siung bawang merah 1 cm jahe Cara Membuat Ikan Bandeng Bumbu Bali:Setelah ikan dibersihkan, sekarang silahkan lumuri ikan dengan air jeruk ipis garam dan juga kunyit sambil diaduk secara merata dan didiamkan selama kurang lebih 10 menit agar bumbu ini meresap kedalam ikan dengan merataSetelah itu, siapkan wajan dan goreng ikan bandeng hingga matang dan garing. Lalu angkat ikan yang telah matang dan sisihkan ikan sementaa.Kembali panaskan wajan dengan diberikan 3 sdm minyak goreng dan tumis bumbu yang telah dihaluskan hingga bumbu ini mengeluarkan aroma yang harum dan sedap. Lalu masukkan tomat, kecap manis, serai, gula, garam dan garam. Lalu aduk-aduk bumbu ini hingga airnya mendidih secara merata. Setelah mendidih, masukkan ikan bandeng kedalamnya yang telah digoreng sambil diaduk-aduk merata sampai bumbu ini meresap pada ikan secara merata Silahkan masak ikan dengan menggunakan api yang kecil.Sumber: selerarasa.com ...
Featured Event
AQUATICA ASIA & INDOAQUA 2019
The Most Innovative Aquaculture Exhibition & Conference in Asia Pasific.
Selengkapnya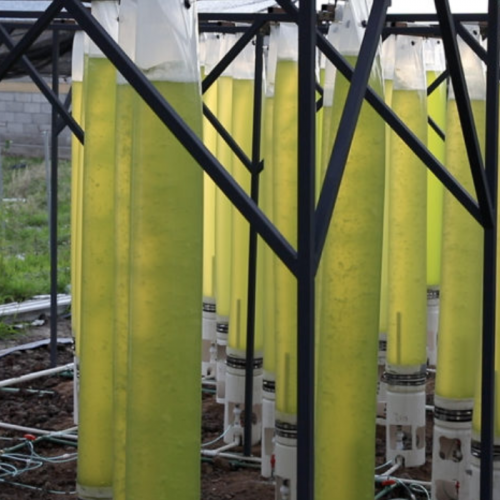 Startup
Mexican Startup Offers DIY Aquafeed Solution by Upcycling Wastewater
The process converts carbon dioxide, nitrogen and phosphorous into protein, and releases oxygenThe search for sustainable fish feed has led innovators to ingredients like soy, peas, wood, rapeseed, insects and even microbes fed natural gas. Now Marissa Cuevas is trying a different feed input: fish output.Cuevas is the founder and CEO of MicroTERRA, a Mexico-based startup developing systems that use microalgae to turn fishpond wastewater into protein for fish feed. The circular system not only cleans and oxygenates dirty pond water for re-use, but could allow a fish farmer to produce up to 60 percent of their own feed, she says."It's autonomous production on-site," Cuevas told the Advocate. "The idea is to provide technology so they can be self-sufficient in their fish feed production."Cuevas, who has a background as a renewable energy engineer and a master's degree in sustainability management came up with the upcycling idea after learning about the impacts of wastewater and agricultural runoff, which can deposit high levels of nitrogen and phosphorus in oceans and waterways, leading to toxic algae blooms, fish die-offs and low-oxygen areas known as dead zones."I thought, there must be a way to take those nutrients out of the water and put them back in the soil, because ultimately nitrogen and phosphorous are key to our nutrition," she said.Left to right: Paola Constantino, CTO; Arlet Rodriguez, biotech researcher; Mariana Elías, project manager; Marissa Cuevas, CEO; Fernando Cuevas, trainee. Photo courtesy of MicroTERRA.From microalgae to fish feedCuevas ruled out using kelp or seaweed to capture wastewater nutrients, because of the plants' long growing time. "Then I looked at the smallest plants in the world – microalgae," she said.She developed a system in 2018 for turning wastewater into fertilizer but found there was not enough of a market for the product. Then while interviewing a farmer for her market research, she noticed tilapia tanks on his property."As soon as I saw the tilapia tanks, I thought, this is the water we need," she said. "It was full of nutrients and it was already in the pipeline."When Cuevas learned that one of the farmer's biggest problems were the cost and variability of his fish feed, the lightbulb went off."I went back to our CTO and said, 'Can we do fish feed?'" Cuevas recalled. "She said, 'of course we can.'"For Cuevas, the idea "made so much sense," she said. "By creating a sustainable product out of that wastewater, we're also replacing fishmeal. The impact on oceans would be even bigger."A microscopic view of the microalgae consortia MicroTERRA uses to clean water. "These are the heroes of the story, the fastest biomass on earth, and therefore the best microorganism to clean water," said CEO Marissa Cuevas. Photo courtesy of MicroTERRA.A self-contained systemIn 2019, the company launched its pilot project, a The 5,000-liter system now operating at a fish farm in Irapuato, Mexico, which produces around 4 kg of fish feed per day.In the MicroTERRA system, wastewater flows into bioreactors, where it mixes with microalgae. The tiny organisms absorb carbon dioxide from the water, along with nitrogen and phosphorous, converting the nutrients into protein, and releasing oxygen. The cleaned water is returned to the fish pond, while the protein is mixed with other ingredients to create pellets for fish feed.Technicians can monitor the system remotely with sensors and communicate with the farmer if something needs attention, like adjusting the pH, or opening a valve to circulate water.Cuevas estimates a 100,000-liter system would cost about $250,000."The idea is that because it's displacing fish feed, the payback period is approximately five to seven years," she said.MicroTERRA is focusing on Latin America as a market for the systems, because of the region's warm climate and abundance of sunlight. With no need for artificial lighting or temperature, "our systems can stay affordable," said Cuevas.In addition to selling systems to fish farmers, Cuevas is looking at fish feed producers as a potential market. "Latin American has a huge market not just for fish but also for fish feed," she said. "They're already searching for sustainable protein, and I think for them our system could be super interesting."The company's next project, a 25,000-liter system, which will produce an estimated 20 kg of fish feed per day, is scheduled to be deployed in February and March at a tilapia farm in Apaseo el Grande, Mexico.The MicroTERRA team. Courtesy photo.'Really intriguing idea'The company was selected for the 2019 cohort by the Techstars Sustainability Accelerator, a prestigious three-month mentoring and business development program backed by The Nature Conservancy. The program seeks to support viable businesses that are addressing top environmental challenges, including protecting land and water, providing food and water sustainably, building healthy cities, and tackling climate change, according to Robert Jones, global lead for aquaculture at TNC. The accelerator had been actively seeking aquaculture companies to apply; MicroTERRA was the first to be accepted."I think MicroTERRA has a really intriguing idea," Jones said. The company stands out because it addresses two major challenges facing aquaculture: reducing the environmental impact of effluent, particularly from pond-based systems; and feed sustainability. The concept addresses both challenges in a self-contained system, while also building on the concept of a circular economy and regenerative agriculture, he argued."We do need innovations like this to help aquaculture become more sustainable," Jones said. Particularly intriguing is the fact that MicroTERRA's system would be beneficial to small and medium-sized pond-based aquaculture operations. "I think that's very compelling."Scaling upJones worked with MicroTERRA to address technical challenges around commercialization, including building connections with technical experts to help design studies on feed profiles.Cuevas said the program helped MicroTERRA transition from R&D to the next phase, and scale-up. "Techstars was an amazing experience to grow the business behind the idea," she said.The startup's next step is a fundraising round, planned for the first quarter of 2020. Cuevas also hopes to form a strategic partnership with a fish feed producer. "Ideally we would focus only on the wastewater treatment and transforming it into a sustainable protein and let the experts in the field create the fish feed," she said.MicroTERRA has a bright future, Jones said. "The leadership of the company is very strong. This is a high-energy, enthusiastic, very knowledgeable group of female entrepreneurs from Mexico, who really want to see this done for the good of the planet and think they can make money at it," he said. "I wouldn't underestimate the ability of this group to be successful."Source: Aquaculture Alliance ...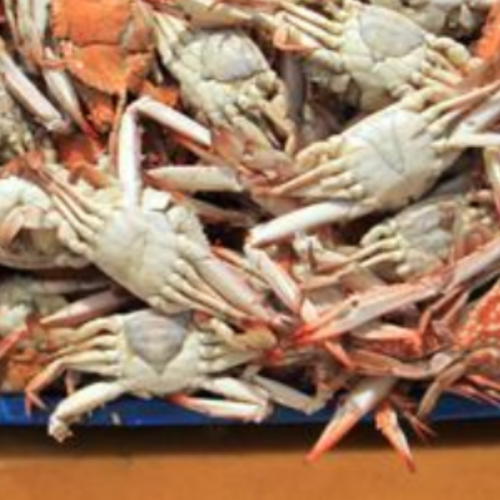 Kepiting & Rajungan
Jateng Jadi Salah Satu Penopang Ekspor Rajungan
Kementerian Kelautan dan Perikanan (KKP) bertekad menggenjot ekspor rajungan dengan cara terus mendorong perbaikan mutu komoditas tersebut sebagai salah satu unggulan ekspor Indonesia."Rajungan merupakan salah satu komoditas unggulan ekspor Indonesia pada 2019. Merujuk data sementara dari Badan Pusat Statistik (BPS), nilai ekspor rajungan termasuk di dalamnya kepiting sebesar 393 juta dolar AS, dengan volume 25,9 ribu ton," kata Direktur Jenderal Penguatan Daya Saing Produk Kelautan dan Perikanan KKP Agus Suherman dalam siaran pers di Jakarta, Selasa (21/1/2020).Untuk itu, ujar dia, pada 2020 ini pihaknya mendorong berbagai daerah untuk terus mengekspor rajungan, salah satu adalah Jawa Tengah.Agus mengatakan, Provinsi Jawa Tengah merupakan salah satu daerah penghasil rajungan. Sampai dengan 21 Januari 2020, sebanyak 161 ton rajungan senilai Rp30,37 miliar diekspor dari Kabupaten Demak dan Rembang ke Amerika Serikat dan Hong Kong.Agus menambahkan ekspor produk rajungan tersebut berasal dari lima Unit Pengolahan Ikan (UPI) Rajungan yang berada di Kabupaten Demak dan Rembang."Salah satu pemasok utamanya Desa Betahwalang, Kabupaten Demak, yang kerap dikenal sebagai 'Kota Rajungan'," paparnya.Dirjen Penguatan Daya Saing KKP mengingatkan pangsa pasar rajungan sangat luas, seperti Amerika Serikat, China, Malaysia, Jepang, Singapura, Perancis, dan Inggris.Agus menerangkan saat ini Amerika Serikat masih menjadi pasar terbesar untuk ekspor komoditas rajungan yang didominasi dengan produk olahan dalam kemasan kedap udara atau kaleng.Namun, lanjutnya, tidak menutup kemungkinan permintaan akan terus bertambah dari negara lain seperti China yang menggemari produk rajungan dalam kondisi hidup, segar atau dingin.Sementara itu, masih menurut dia, Jepang banyak membeli produk rajungan yang diolah atau diawetkan tidak dalam kemasan kedap udara."Potensi pasar rajungan sangat luas, maka dari itu kami ingin terus meningkatkan produk komoditas rajungan dalam negeri," katanya. Agus berharap komoditas rajungan mampu memberikan kontribusi besar terhadap target ekspor produk perikanan 2020 sebesar 6,47 miliar dolar.Sumber : Bisnis.com ...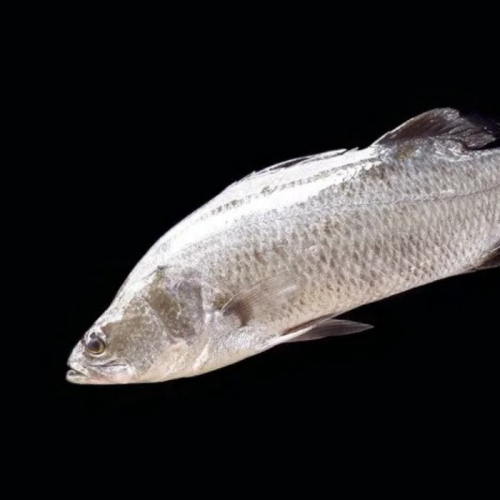 Kakap Putih
Tank Colour Shown to Impact Performance of Asian Seabass
The color of a fish tank's walls has been shown to have a marked impact on the performance of Asian seabass (Lates calcarifer).The background color is known to influence the growth rates and feed utilization of various fish species and research by a team based in Thailand has demonstrated that it can have marked differences in the performance of Asian seabass too.The researchers stocked juvenile seabass averaging 16g into 18 tanks of six different colors: transparent, white, black, red, green and blue – and compared the growth performance, feed utilization, digestive enzyme activities, flesh quality, carcass composition, and hematological parameters.After 10 weeks, they noted: "positive growth performance and feed utilization were observed in fish reared against transparent, white, black or green backgrounds, while negative effects were noted for fish reared on the remaining treatments (p < .05)".Modulation of the main digestive enzymes was observed across the six treatments, indicating different strategies for utilizing nutrients by the fish. The activity ratio of trypsin to chymotrypsin was highest in the fish reared against a black background, followed by a white background.Flesh quality, in terms of protein synthesis capacity and protein turnover rate, indicated a significant improvement in the fish reared against white, black and green backgrounds, while the levels of myosin and actin was similar across the six color treatments. Carcass composition and hematological parameters showed no negative effects in either of the preferred treatments.The researchers concluded: "These findings indicate that the most suitable background colors for rearing Asian seabass are black, followed by white and green, while transparent, red or blue backgrounds are unsuitable." An abstract of their research, which was published in Aquaculture Research can be accessed here.Source: The Fish Site ...