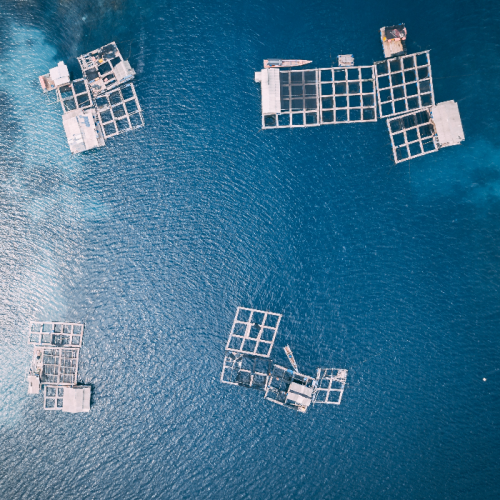 | Mon, 09 Aug 2021 - 13:13
From precision farming to creating fish feed from insects, yeast or bacteria, the aquaculture industry is developing new ways to produce large amounts of animal protein with limited environmental impact, producers and academics said at the 8th World Ocean Summit.
Aquaculture is the fastest-growing food production system of the past 50 years, and is vital for feeding the world's growing population, said Manuel Barange, director of fisheries at the UN's Food and Agriculture Organisation (FAO). It has already enabled people to increase annual fish consumption from 9kg per person in the 1960s to more than 20kg today.
Feeding the World
Aquaculture now produces similar quantities of fish and seafood to capture fisheries: 82.1m tonnes in 2018, according to FAO. The sector is expected to at least double by 2050, offering trillions of dollars in investment opportunity, said Mike Velings, managing partner of Aqua-Spark, a Dutch investment fund specialising in aquaculture.
Read more: Sustainable Aqualcuture to Feed the Wolrd
Despite the growth figures, policymakers tend to overlook the sector. But their involvement is important, for example to ensure proper zonal management and incentivise the use of the right kinds of ingredients in fish food, said Mr Velings.
They can also help boost aquaculture's acceptance among consumers by clarifying its role as a more environmentally friendly way to feed people than land-based animals, said Mr Barange.
One of the main obstacles to the growth of aquaculture is the sector's bad reputation among some consumers. This is partly because in some countries—especially in Europe—consumer knowledge of aquaculture techniques is years out of date, said Alf-Gøran Knutsen, chief executive of Norwegian salmon producer Kvarøy Arctic.
Much of the aquaculture sector is based in Asia, and it is one reason why China is a net exporter of fish, said Mr Barange. Indeed, China is the world's largest fish exporter, followed by Norway.
Read more: Sustainable Fisheries Partnership Unveils New Aquaculture Improvement Toolkit
In sub-Saharan Africa, aquaculture could be a vital source of animal protein—and without it, fish consumption there will dip by 2030, says FAO. Fish consumption per head could drop slightly as the continent's population growth is set to outpace growth in supply.
Aquaculture and wild-capture fisheries together have the potential to provide more than six times as much food by 2050 as they do today, according to a paper commissioned by the High Level Panel for a Sustainable Ocean Economy.
"Aquaculture [is an] enormously exciting potential avenue for increasing productivity and staying within the limits of planetary boundaries," said Christopher Golden, professor at Harvard T.H. Chan School of Public Health and co-author of the paper.
Even better, marine produce contains the micronutrients needed for brain health and immunity, including iron, zinc, fatty acids and vitamin A. If the production of aquatic foods grows in a sustainable way, micronutrient deficiencies in 200m people could be prevented, said Professor Golden. "The future of aquaculture is now perfectly positioned to provide healthy, nutritious, and safe and sustainable food to a growing population."
Read more: Cargill and Inovafeed Partner to Bring Innovative, Sustainable Feed to Animal Producers 
But aquaculture must keep improving technologies, feed and antibiotic use, and reduce ecosystem conversion (the conversion of land from a natural ecosystem to use for aquaculture) to boost its sustainability. Professor Golden is part of the Blue Food Assessment, which focuses on how the diversity of blue foods (i.e. edible aquatic organisms) affects their contributions to nutrition and their environmental impacts, and boosts local and national economies.
Addressing Sustainability Challenges
Fish are more efficient convertors of food to protein than land animals, so their climate-change footprint is lower. But the expanding aquaculture industry needs millions of tonnes of additional feed, and companies are exploring how to source this sustainably. Commonly used feed ingredients—soya beans and grains, for example—must be certified as not causing deforestation.
One new source of fish food being developed is single-cell proteins from bacteria, yeast and algae, which need little land to grow. These could be a "game changer", said Carlos Diaz, chief executive of BioMar, a producer of aquaculture feed.
Some feed producers are looking to insects. Cargill is exploring using black soldier fly larvae, for example.
Read more: Unlocking New Potential for Microalgae in Aquafeed
Another source is by-products from catch fisheries which currently go to waste, said Petter Johannessen, director general of IFFO, an international trade organisation representing the marine ingredients industry.
Accelerating Technological Progress
The sector is also exploring new technologies and techniques to improve the productivity and sustainability of farms, producers said.
Aquaculture is turning into a precision activity, with artificial intelligence increasingly used to help to fine-tune all aspects of production, including the water temperature, density of fish and other parameters which provide the best growth performance of the fish.
"This will help offer the best welfare for the animals, and higher sustainability for the industry," said João Rito, founding partner and manager of SEAentia, a Portuguese company which makes products from the meagre fish.
Read more: The Case for Supplementing Salmon Diets with Insect Meal
AI will also mean less disease among the fish, less antibiotic use and fewer chemicals. Aquaculture can benefit significantly from using disease-detection technology to get ahead of major disease outbreaks.
Meanwhile, blockchain can be applied to the seafood industry, where it can help record every stage, from the hatchery fish are born in, to the pens they are kept in, the feed they are given, when they are harvested, how they are shipped and the temperature of the fish as they are distributed.
Source: World Ocean Initiatives